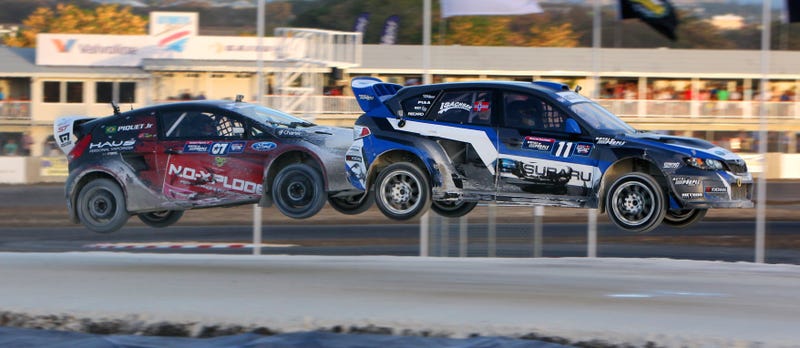 Greetings, Kinja-sphere! We're Red Bull Global Rallycross. For those of you who are aware of us already, yes, this is our official blog within the Kinja network. We're incredibly grateful to Gawker Media, and especially our friends at Jalopnik, for helping us get set up here.
For those of you who don't know too much about us yet, you're in for a treat. Red Bull GRC features some of the brightest stars in motorsports and action sports, racing 600 HP, AWD Supercars on mixed-surface tracks in major urban markets and racing epicenters. We've had drivers from everything from Formula 1 to World Rally to NASCAR enter our series full-time, and our current roster boasts stars like Ken Block, Tanner Foust, Nelson Piquet Jr., and Scott Speed.
So far this year, we've raced in Barbados (where Ken Block stole the show on multiple occasions), brought rallycross to Circuit of the Americas, and taken over the streets of DC with Rhys Millen. And we promise, we've got plenty more up our sleeve.